What Others Are Saying
Reviews for Jenifer Broomberg, Permanent Makeup and Medical Micropigmentation Artist
Excellent!

Jen is a professional artist and her work reflects that artistic gift. She listens carefully to her client and isn't satisfied until the client is completely satisfied. Her prices are excellent: you get the work of a perfectionist at a reasonable price. I have only the highest praise for Jen and her work!
Kay
Talented Artist

Jen is great! Love having my eyeliner done permanently. It's made my life easier and was one of the best things I have ever done for myself. Jen was good at reapplying the numbing agent, asks your opinion often and is great about doing touch-ups or adding so that you get just the look you want.
I'd also like to add, that Jen is a very talented artist and I really enjoyed her sharing her information and encouraging me in that area too.
Cheri R.
Fallbrook, CA
Professional!

Jenifer is an artist and also so great with the art of the face. She really helped me with my fading eyebrows and is so nice and professional! Also I am so happy there is an answer to help make aging brows look perfect and natural!
I am excited for my touch up to make them even more perfect! I love this whole idea- it's safe easy and amazing
Tammy N.
La Jolla, CA
Did a Great Job!

I found Jennifer on Yelp and was impressed with her reviews. She made sure that I was comfortable and did a great job correcting my eyeliner which was done incorrectly by another permanent makeup artist.
Maria M.
Oceanside, Ca
5 Stars

My goodness, what does it take to get a 5 star. Jennifer is outstanding to say the least, I love her work, I'm still in the process, but so far so good. Love the compliments I'm getting already. Thank you
Rosa M.
Chicago
Highly Recommended!

5 stars for service and value. I had SMP (scalp micro pigmentation) done for a fraction of the cost of what I was quoted in LA. Jen will continue to work on you like a painting until you are completely satisfied with her work (I came in 3 separate occasions and a follow up next month).
Highly recommended!
Patrick P.
Chula Vista, Ca
Jenifer Broomberg, Permanent Makeup and Medical Micropigmentation Artist.
Jenifer Broomberg, The Artist's Touch, is a professional Painter and Sculptor and permanent makeup artist. She utilizes her many years of experience in painting and sculpting the human form to enhance the beauty of the face with Permanent Makeup. She employs her knowledge of color theory when matching pigments with her client's skin tones for scar camouflage or skin pigmentation problems. Jenifer is also a certified tattoo removal technician.
The Artist's Touch offers a wide range of services including:
Permanent Makeup: Eyeliner,
3D Brows (Microblading)
Lips
Medical Micropigmentation:
Scar Camouflage,
Areola Re-pigmentation for Mastectomy patients
Scalp Micro Pigmentation for hair loss.
Collagen Induction Therapy to diminish wrinkles, scars, stretch marks, and skin hypopigmentation.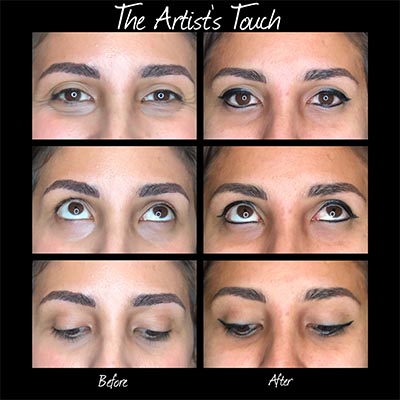 About Jenifer Broomberg
The Artist's Touch was created by Artist, Jenifer Broomberg, Permanent Makeup and Medical Micro pigmentation Artist who is also a professional figurative painter & Sculptor. She has exhibited her work in several galleries around the world and has had extensive training in Anatomy & Classical Proportions of the face and body.
She is now using her artistic knowledge & experience to enhance her client's features or skin pigmentation problems such as Vitiligo.
The Artist's Touch
The Artist's Touch offers a wide range of cosmetic permanent makeup and Medical Micro pigmentation services.
One of its specialties is creating 3-D Eyebrows with the hyper-realistic hair stroke technique done meticulously by hand to exactly match and blend in with one's natural eyebrow hair and she also creates fuller, more beautiful lips adding permanent color and eliminating the need to apply cosmetic lip products on a daily basis. Book now.
A variety of styles of permanent eyeliner from very natural to more intricately designed liner according to the client's preferences is offered.
Medical Skills
Her Medical Micropigmentation skills include Scar Camouflage for burn victims or other scarring and skin pigmentation problems, by using her training in color theory and her many years of experience in painting and matching pigments to the client's natural skin tone.
Areola Repigmentation, a 3 dimensional areola and nipple "reconstruction" pigmentation for breast cancer patients who have undergone Mastectomy or Breast Reconstruction surgery Jenifer, uses her professional painting experience to form a new nipple and Areola using light and shadow to create realistic depth and dimension with pigment.
Hair Loss Camouflage
Jenifer also specializes in scalp pigmentation to camouflage hair loss/balding matching the client's natural hair color and resulting in a look that exactly mimics natural hair follicles.
Also offered by The Artist's Touch is Cleft lip repigmentation which helps to recreate natural lip color and a symmetrical lip shape using pigments as well as helping to successfully camouflage scarring as a result of cleft lip surgery using pigment that perfectly complements the natural skin tone.
Collagen Induction Therapy
Rejuvapen Micro Needling or Collagen Induction Therapy is also offered. The treatment stimulates the body's natural healing ability increasing the production of collagen and elastin in the skin and improving or eliminating fine lines and wrinkles, acne scarring, surgical scarring, burns, stretch marks, and firms and tightens the skin.
Tattoo removal is also offered.
Monday Closed

| | |
| --- | --- |
| Tuesday | 9:00 – 7:00 |
| Wednesday | 9:00 – 6:00 |
| Thursday | 9:00 – 7:00 |
| Friday | 9:00 – 6:00 |
| Saturday | 8:00 – 6:00 |
| Sunday | 9:00 – 5:00 |
Our Location
3282 Governor Drive
San Diego, CA 92122,
Get our latest offers, discounts, beauty tips, news & events direct to your inbox!